How I spend less than 35min on Instagram each day (despite appearances)
1% better every day at 11:11am - newsletter #071
Yes, despite appearances, because considering the amount of content I post every day, people think I spend my life on Instagram. Over the last 4 weeks, I am on an average of 32min per day. Let's face it, there's still plenty of time! That's 11 680 minutes per year, or 195 hours, or 8 full days.
Left > time spent 2 weeks ago (33 min per day on average)

Right > time spent this week (35 min per day on average)
But when I came out of my vipassana retreat, I promised myself that I would reduce my use of social media. I like to create content, I like to share what I am experiencing and above all, I am driven by the desire to help people conquer their dreams (by showing by my example that anything is possible). So I had to find a way to continue doing what I love while reducing by 3 or 4 my time spent.
The first exercise was to install "Time spent" on my iPhone, a native feature that you can find in the settings. From there, I could see where my time was "going" on the social networks. Unsurprisingly, it was Instagram that was taking the biggest part with 60min per day. Facebook, Linkedin and Tiktok all together did not exceed 30 minutes.
The objective was simple: go from 60+30 to 30+10 minutes per day. The measurement was also simple and given by my iPhone. All I had to do was test new ideas and follow the evolution.
Tip 1: Set a time limit on each application. 10min for Instagram, 5min for Facebook and 5min for Linkedin. Once the limit is reached, your iPhone will block access and ask you if you really want to continue. I often say "yes I do" but this often allows me to get out of the loop.
"Being in the loop": the moment when you unconsciously scroll the feed and lose track of time and the world around you.
Tip 2: to post VS to scroll. It may sound stupid but it's a fundamental difference. Opening the application in order to post something is not at all the same approach as opening it to get into "the loop". When you feel like sharing content, do it consciously. Open the application and immediately click on the "create" button to exit the viewing area and go to the creation area.
Tip 3: create your content outside of Instagram and then go and upload it directly ready to use. I always create my videos or stories directly with the iPhone camera (so not in Instagram), which I then edit with InShot (so still outside of Instagram). This avoids the temptation to go in the " loop ".
Tip 4: Reply to messages and comments from your computer, not your iPhone. You will be faster when writing from your computer keyboard and you will be less inclined to scroll the home page (the interface is more attractive on mobile). As with your emails, practice "Zero Inbox": answer all messages at once and close the window once you have done so.
Tip 5: disable notifications! This applies to all your applications! It's not up to your iPhone to decide when it needs attention. Really, I insist! Disable all your notifications! You can't imagine how much good it will do you.
---
ONE QUOTE TO SHARE
"The most difficult thing is the decision to act, the rest is merely tenacity." - Amelia Earhart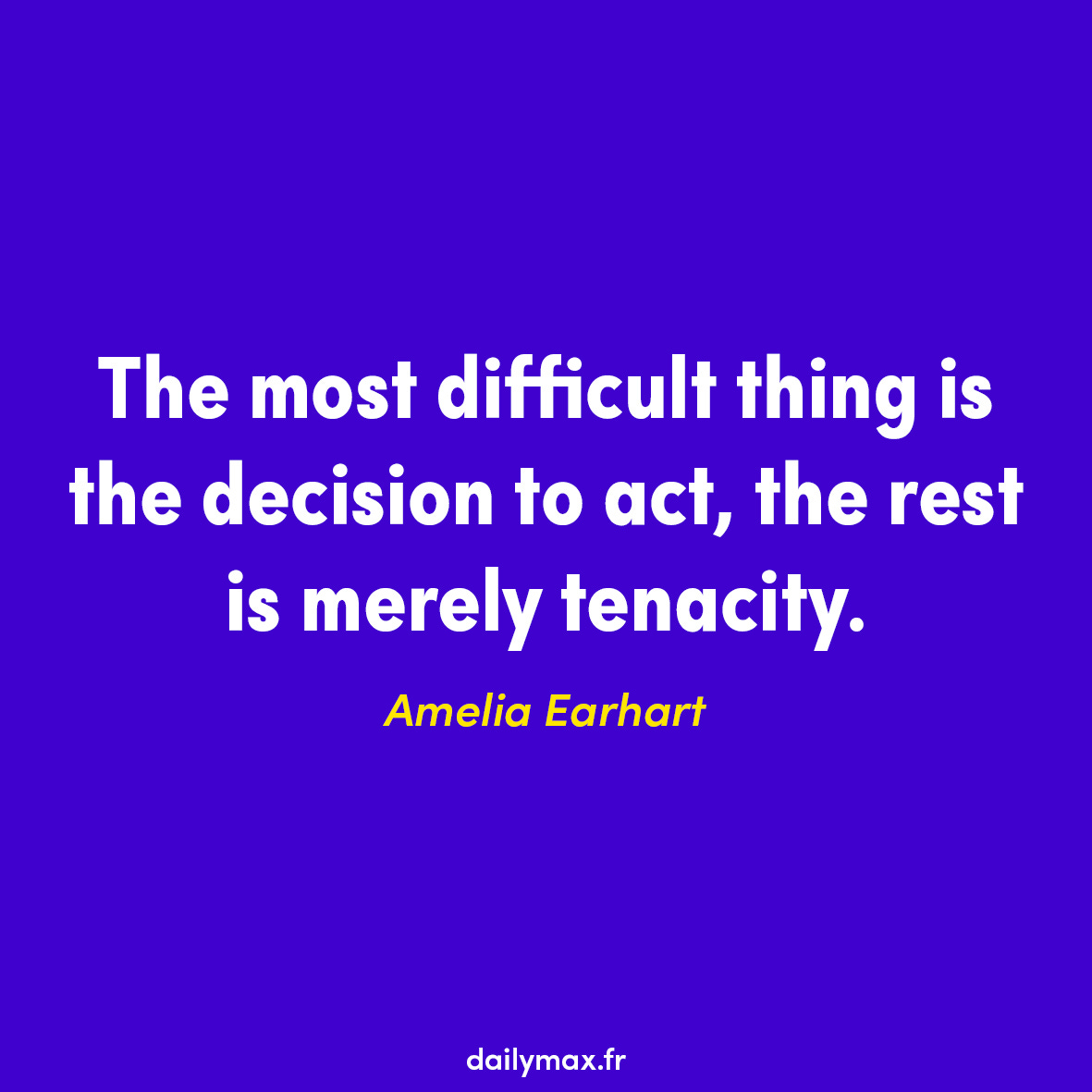 ---
ONE ARTICLE TO READ
Groups of conservative provocateurs, QAnon supporters, and others on social media have jumped on the release of the French coming-of-age film Cuties and a trending "Cancel Netflix" hashtag to associate the company with pedophilia.
Directed by Maïmouna Doucouré, Cuties is a French movie that critiques society's sexualization of girls. The movie uses uncomfortable images to provoke a serious conversation about the sexualization of girls, especially regarding girls of color, the policing of a girl's sexuality, double standards, the effect of social media on kids, and how children learn these behaviors.
The film even won the World Cinema Dramatic Directing Award at Sundance Film Festival this year, and it was widely praised for its depiction of the pressures of girlhood. Netflix secured the global streaming rights to the film, in 190 different territories that Netflix operates in, excluding France where it had domestic distribution.
In August, Netflix tweeted a teaser for the movie's release date that came with a new poster. Designed by Netflix's team, the new poster seemed to present a different type of movie than the one Doucouré made. Netflix's now-deleted poster positioned the girls as older characters, similar to posters for other dance movies like Step Up.
Here's a side-by-side comparison.
---
ONE QUESTION TO ASK YOURSELF
When was the last time you did something for the first time?
---
ONE SPORT TO TRY
Why don't you try CrossFit? I practiced this sport for 2 years almost 5 to 6 times a week (photo here). It's very effective for increasing your muscular level!
---
❤️ SHARE WITH A FRIEND
Thanks for reading. If you liked today's newsletter, I'd love for you to share it with a friend. You can also leave a comment, I'd love to read your feedbacks !
---
If you want to know a little more about my work and my world, click on a link below !